About Mike Davies – Woodcarver and Sculptor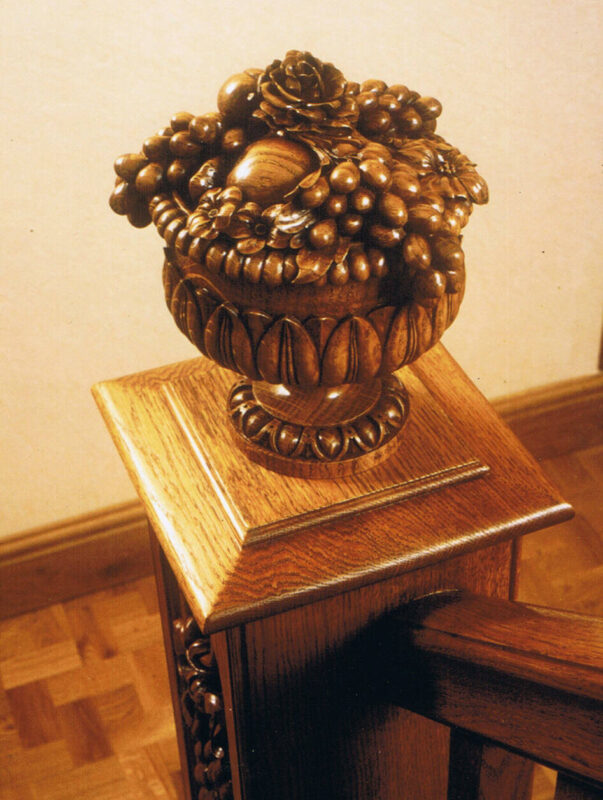 Training and Background
Mike was trained in England as an apprentice woodcarver and furniture maker to Ronald Hester. Michael studied formally with Ron for five years, but remained under his direction for eight years in total. DUring this time Mike surveyed and restored works by many of the world's great designers and carvers from history.
Writing and Education
As a qualified teacher, Mike's education and passion for his craft has been widely published for over 30 years.
A Royal Visit
HRH Prince Philip Duke of Edinburgh inspecting Mike's restoration work.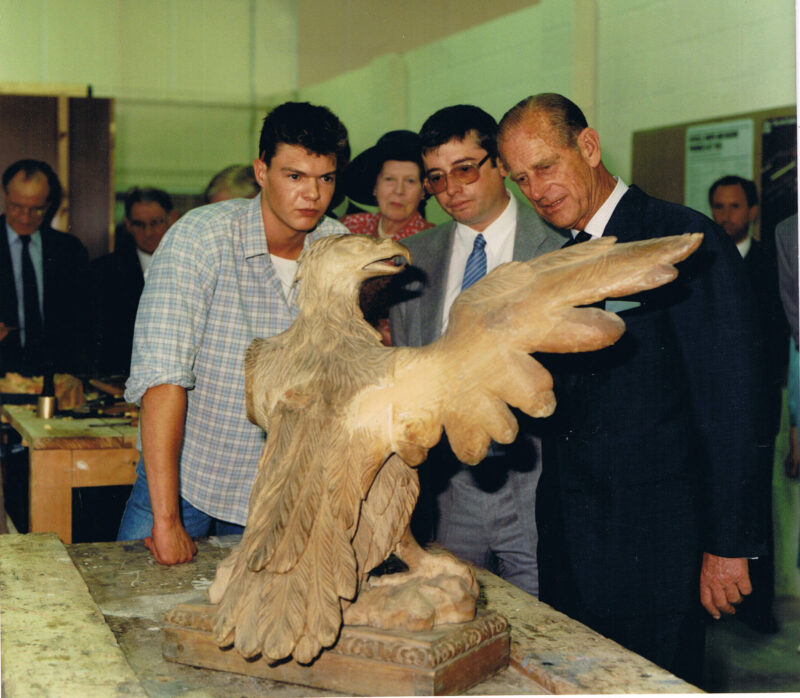 Mike presenting Prince Philip with a carved panda, symbol of the Worl Wildlife Fund for Nature, which the Duke was president at the time.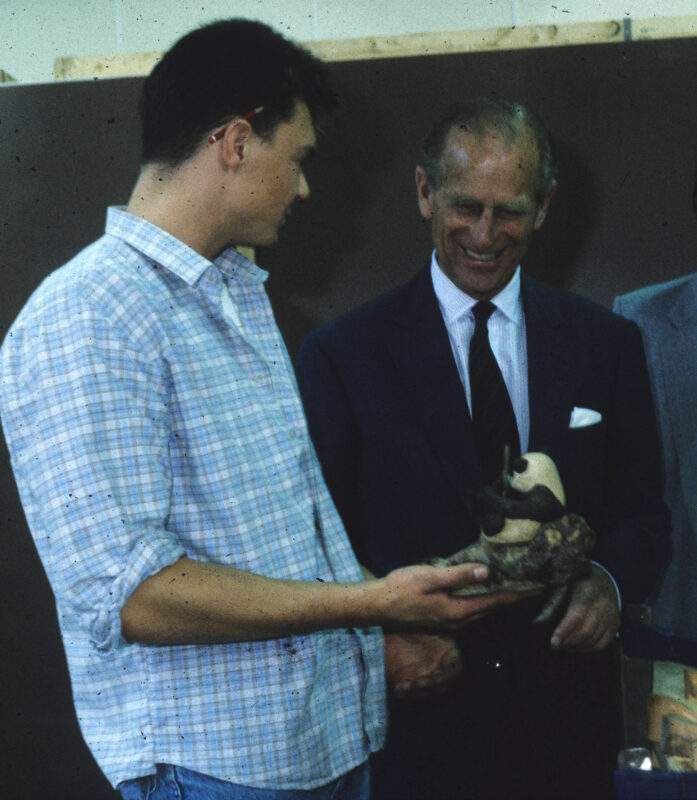 Commissions and Restoration
Mike has undertaken projects for royalty, various heritage trusts, corporate organisations and private collectors alike.
Fire damage at St Paul's Trinity Church, Christchurch, New Zealand. Mike taking silicone moulds of the carvings that survived the fire. The castings will provide detailed reference of scale, style, and finish so that the new carvings can be produced accurately to replace the originals.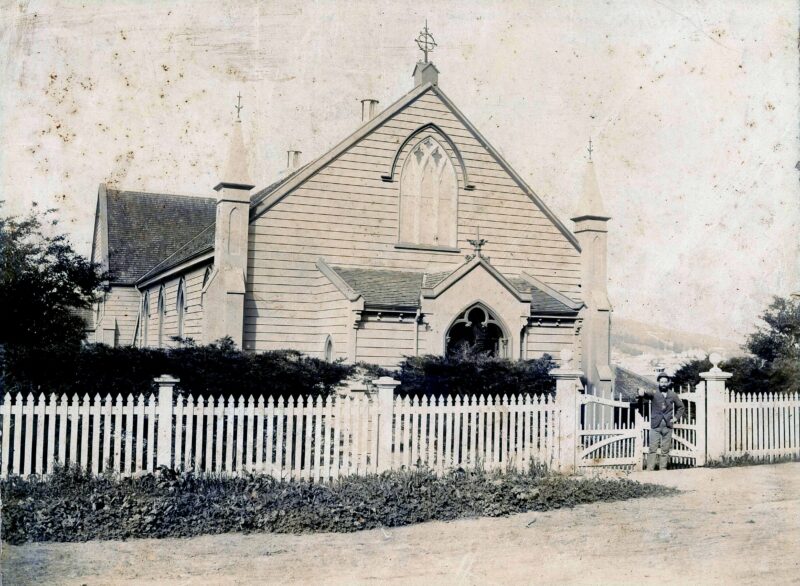 The replacement of the finial and crockets above the doorway of Devonport Museum, Auckland, New Zealand. Only one photograph from the 1800's was available as reference.
Commissions, education and consultancy work have frequently taken Mike to much of Asia, the Pacific, North America and Europe.
Artworks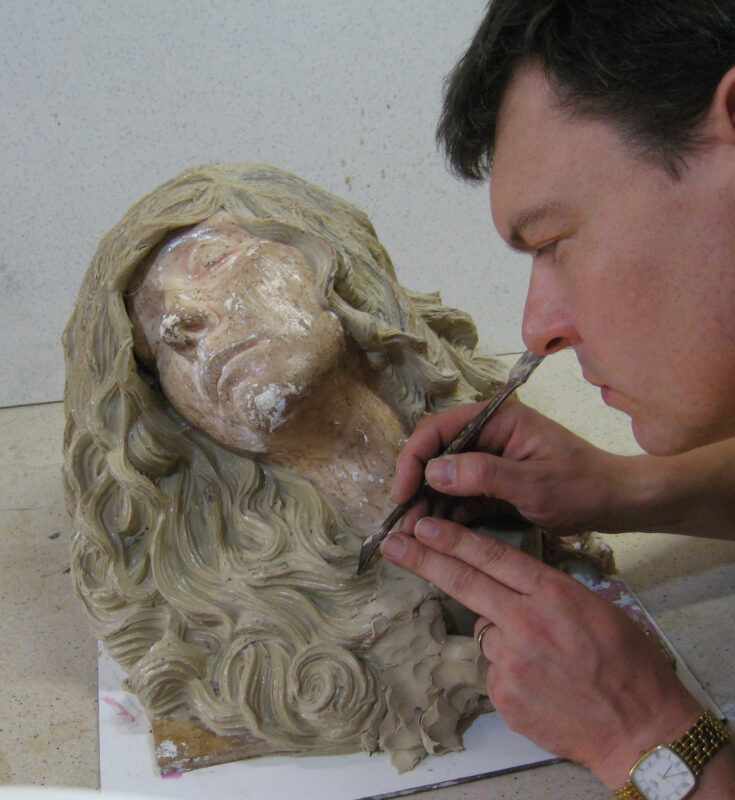 Adding the finishing touches to a female head and torso carved from solid mahogany. The hair will be worked in clay and cast in glass.
Portrait or figurative sculpture in the realism style is considered challenging, due to the technical accuracy required to produce a true likeness of the subject. This must be mirrored by artistic merit to give the piece a 'presence' or 'sense of life'. This body of work featured life size studies, carved from specimen timbers. Each piece is embellished with precious metals, glass, and stone. The combination of mediums is unique to each sculpture, such as mahogany with sea-green glass and black marble or spalted beech with Verdigris copper and blue pearl granite.
Public Works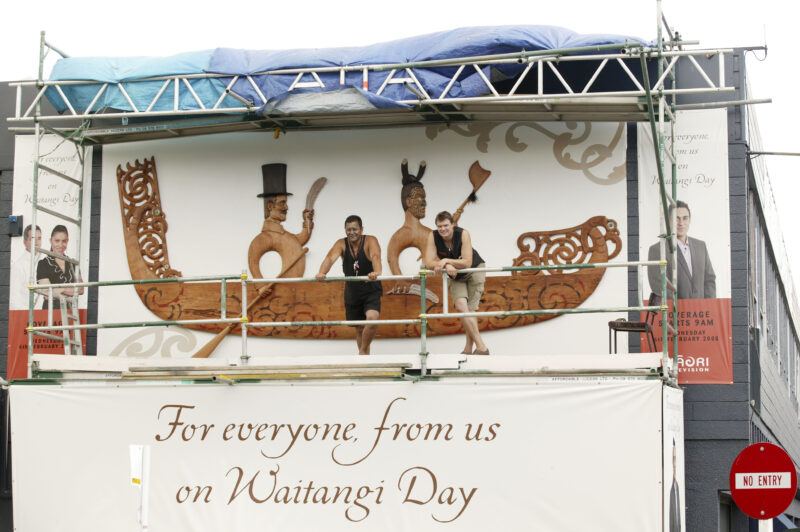 The 2008 documentary 'Gift for the Nation', which aired on National Television to commemorate the signing of the Waitani Treaty, an important event in New Zealands history.
The documentary followed Mike and well-known Māori artist Blaine Te-Rito, as they created the carved billboard. The artwork was carved on the front of Māori Television H.Q. building in Auckland City, and was commissioned to signify two cultures working together as they move forward into the future. Al live webcam was also set up so the work could be viewed in progress from around the world.
Mike and Record Power
Record Power has a long and impressive history. Established in Sheffield, the heart of the UK's steel industry, and stretching back over 100 years. In addition to their UK-made products, Record Power work with carefully selected partners from across the globe to ensure they supply only the best quality products possible.
Although UK-based, Record Power products are exported to more than 30 countries worldwide.
Mike's association with Record Power stretches back to his early days as an apprentice woodcarver. He trained using many of the tools and equipment that originated from Record's Sheffield foundries.
Mike has worked with Record Power for over a decade as their international representative, assisting in all aspects of promoting quality tools, craftsmanship and education.